What do y'all know?! I actually got some reading time in during layovers and on the planes during my trip to NM. (Blog post coming soon about that.) Here are my two reviews of the books I finished.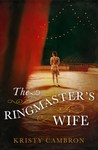 The Ringmaster's Wife
by
Kristy Cambron
My rating:
5 of 5 stars
Best for 16+
Wow.
Words almost fail to express just how delightfully perfect this book was. Peppered with historical detail and rich descriptions that never felt wordy or boring, this is far from your typical, cliched work of romance and history. Instead, it is alive, a page-turner, warm, and vibrant. Nothing about this title felt cliched, overused, or typical for its genre. It was sparkling fresh, as bright and vivid as a circus parade itself.
From the synopsis:
In turn-of-the-century America, a young girl dreams of a world that stretches beyond the confi nes of a quiet life on the family farm. With little more than her wit and a cigar box of treasures, Mable steps away from all she knows, seeking the limitless marvels of the Chicago World's Fair. There, a chance encounter triggers her destiny—a life with a famed showman by the name of John Ringling.

A quarter of a century later, Lady Rosamund Easling boards a ship to America as a last adventure before her arranged marriage. There, the twenties are roaring, and the rich and famous gather at opulent, Gatsby-esque parties. The Jazz Age has arrived, and with it, the golden era of the American circus, whose queen is none other than the enigmatic Mable Ringling.

When Rosamund's path crosses with Mable's and the Ringlings' glittering world, she makes the life-altering decision to leave behind a comfortable future of estates and propriety, choosing instead the nomadic life of a trick rider in the Ringling Brothers' circus.

A novel that is at once captivating, deeply poignant, and swirling with exquisite historical details of a bygone world, The Ringmaster's Wife will escort readers into the center ring, with its bright lights, exotic animals, and a dazzling performance that can only be described as the Greatest Show on Earth!
I'm afraid to write, lest I give away the beautiful details and facts about this story that make it the charming work that it is. Is it enough for me to simply say READ IT?! I was teary, on the edge of my seat, anxious, and cheering by turns. It had all the trimmings of a good read and all the historical accuracy to satisfy even the sternest of historians. I am looking forward to reading more by Kristy and am glad I discovered her.
Recommended to historical fiction fans, history buffs, clean romance lovers, and all those who would love a peep behind the scenes of circus life.
View all my reviews
Unwritten Melody
by
Tessa Emily Hall
My rating:
5 of 5 stars
Best for 13+
To say that I was blown away by this book is an understatement. I had heard great things about Tessa's books, but I was not prepared for one that showed both such literary skill and a keen understanding of human nature-one that was totally beyond the author's years. Some sections and quotes were absolutely inspiring and reminded me of questions and situations that even older people experience-not just teens. True love is tested.
From the synopsis:
Does breaking free require breaking the rules?

Cassie Gilbert lives every day in the shadows of her deceased mom's rebellion. But now that she's seventeen, she finds herself longing to break away from her grandmother's suffocating rules, experience what it's like to be a regular teenager, and fulfill her songwriting dreams.

James Russo, former American Spotlight contestant, escapes to small town Willow Creek, SC hoping to flee from his tarnished past. When a school project pairs him with the shy principal's granddaughter, he's determined to get to know this Emily-Dickinson-obsessed and typewriter-using girl. His plan? Convince Cassie to co-write songs for his demo album.

As Cassie gets to know James over "project meetings" (more like opportunities to match her lyr-ics with his melodies), she becomes intrigued by his sense of adventure and contagious passion for music. But soon, his past becomes exposed. Cassie's left to wonder—did she make the same mistake Mom did by falling for the bad boy?

Then, Grandma's control pushes her over the edge. Cassie must choose between remaining in the chains of yesterday, or delving into her own freedom by completing the melody her mom left behind.
I really, really enjoyed this book. Both James and Cassie were likable, understandable, and completely real. The setting of the book felt real. Descriptions were weaved easily into the story, transporting me into the world of the characters without feeling weighed down by detail. I knew the characters, understood them, felt for them, laughed aloud, and cried for them. The latter was on a plane, and I hope my fellow passengers understood my trauma of being swept away by the beautiful story of James and Cassie.
I will definitely be recommending this to my teenager friends and all those who love a sweet, thought-provoking story.
View all my reviews
What Have Y'all Been Reading?