Again, I didn't get all the rest of my photos of the Creation Museum uploaded! Let's hope for Monday!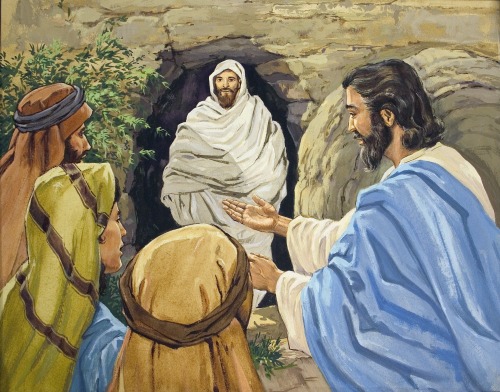 Again, my sanctified imagination has journeyed into the Bible Times. But this is no adventure story about Jonathan and his gallant armor-bearer this time. It's a much sadder, much darker tale - until Jesus came.
Think back to the plight of Mary and Martha. Their brother Lazarus lies dead, buried in a cold, silent tomb. Both sisters are broken, crushed. They feel empty.
Worst of all, they feel Jesus has failed them.
They asked him to come. Instead, he delayed his coming. Why? I can almost hear the anguished cry of the sisters. Why?Why?
Why didn't Jesus come in time? He knew how much they loved Lazarus. He could have healed him. He could have given back the brother they needed so much. Didn't He care? Didn't He want the best for His faithful followers, his friends?
Time brought them the answers to their questions, to the things they couldn't understand. Jesus waited for their sakes, giving them the chance to discover the greatness reaching far beyond the grave. His greatness.
His timing was perfect.
They discovered that Jesus is the Resurrection and the Life. And they found out that Jesus calls us to life.
Song property of Sight and Sound Theaters. Image not my own. If following by email, click on the link to my blog at bottom of page and watch video online.
This song from Sight and Sound Theaters is very powerful. It is also special to me. It portrays how Jesus waits, how His timing is perfect. Remember, wherever you are, He calls you to life!